The Royal London Cup has returned to the domestic calendar, and the knockout stages are a matter of days away.
Somerset are the defending champions after they defeated Hampshire at Lord's in 2019, with Trent Bridge set to host the showpiece decider in August this year.
Read on to discover more about the upcoming quarter-final and semi-final fixtures, as the competition enters its final phase.
What is the format this summer?
The 18 First-Class counties have been randomly drawn into two groups of nine teams.
Each county is playing eight group-stage matches – four at home and four away – with the top three counties in each group progressing to the knockout stages.
The format for the knockout stages is:
Quarter-finals – 14 August (hosted by second-placed counties):
Group A Second-placed county v Group B Third-placed county
Group B Second-placed county v Group A Third-placed county
Semi-finals – 17 August (hosted by group winners):
Group A winner v Quarter-final winner
Group B winner v Quarter-final winner
The winners of the semi-final progress to the Royal London Cup final at Trent Bridge on 19 August.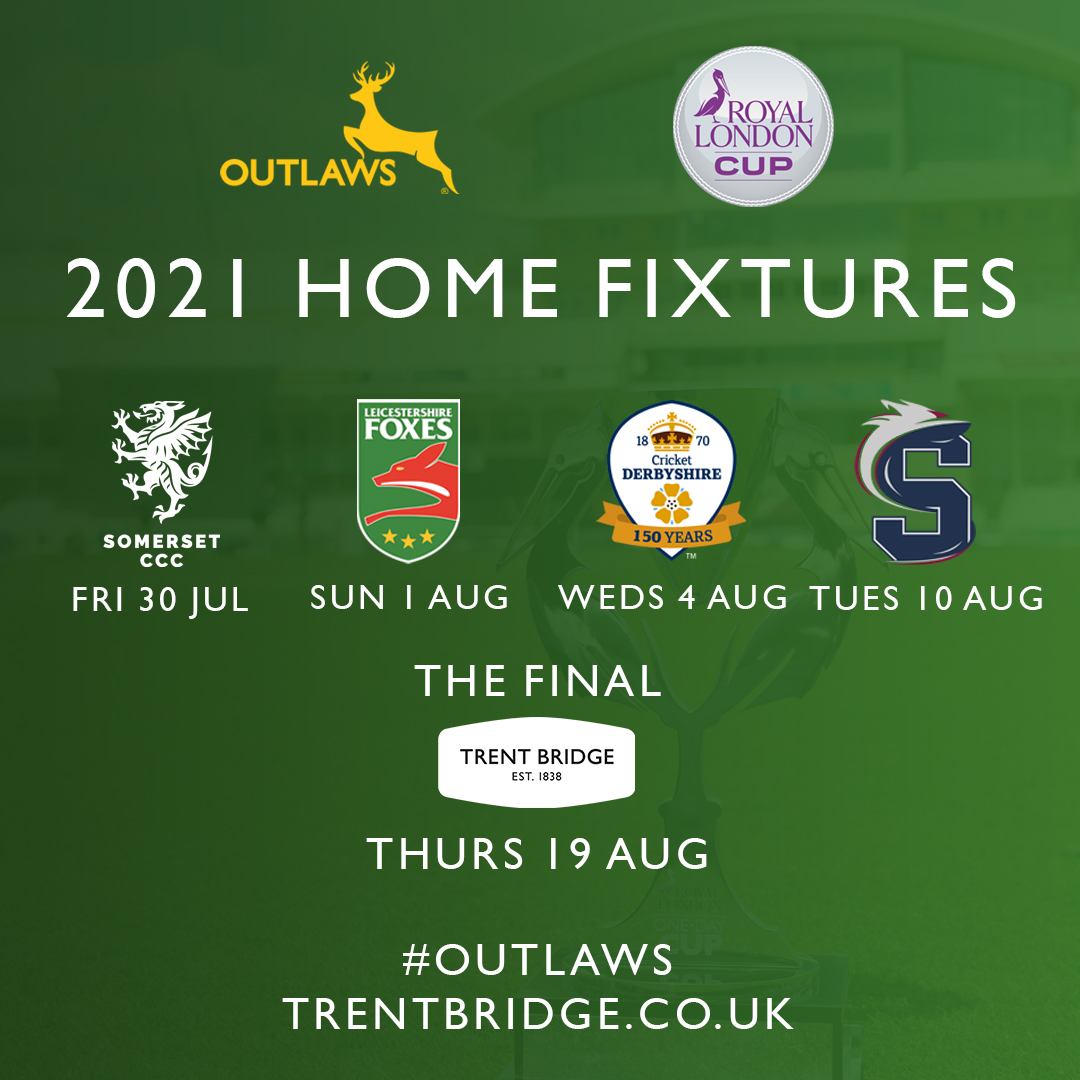 Which counties are in each group?
Group A: Essex, Worcestershire, Sussex, Middlesex, Kent, Durham, Gloucestershire, Hampshire, Lancashire.
Group B: Leicestershire, Derbyshire, Glamorgan, Yorkshire, Surrey, Warwickshire, Nottinghamshire, Northamptonshire, Somerset.
The groups for the Royal London Cup were randomly drawn. The order that they were drawn appears in the above list and has determined the home and away ties.
Example: The first team in the Group will play at home to the second, third, fourth and fifth teams drawn, and away to sixth, seventh, eighth and ninth. This pattern continues – another example is the team drawn seventh; this team will play at home to teams drawn eighth, ninth, first, second, and away to teams drawn third, fourth, fifth, sixth.
Can I buy tickets now?
Tickets for the Outlaws' final group-stage fixture, against Northamptonshire Steelbacks at Grantham on Tuesday 10 August, are available here.
Tickets for the Royal London Cup Final at Trent Bridge are on sale here.
*******