From an icon of the post-war period to the cream of the crop from the 21st Century, Tim Robinson's greatest Nottinghamshire XI covers many an illustrious era in the Trent Bridge history books.
Robinson, Notts' all-time leading run-scorer, made his selection of all-time greats for the latest edition of Wisden Cricket Monthly – and, fittingly, the opener found room for himself amongst an all-star side.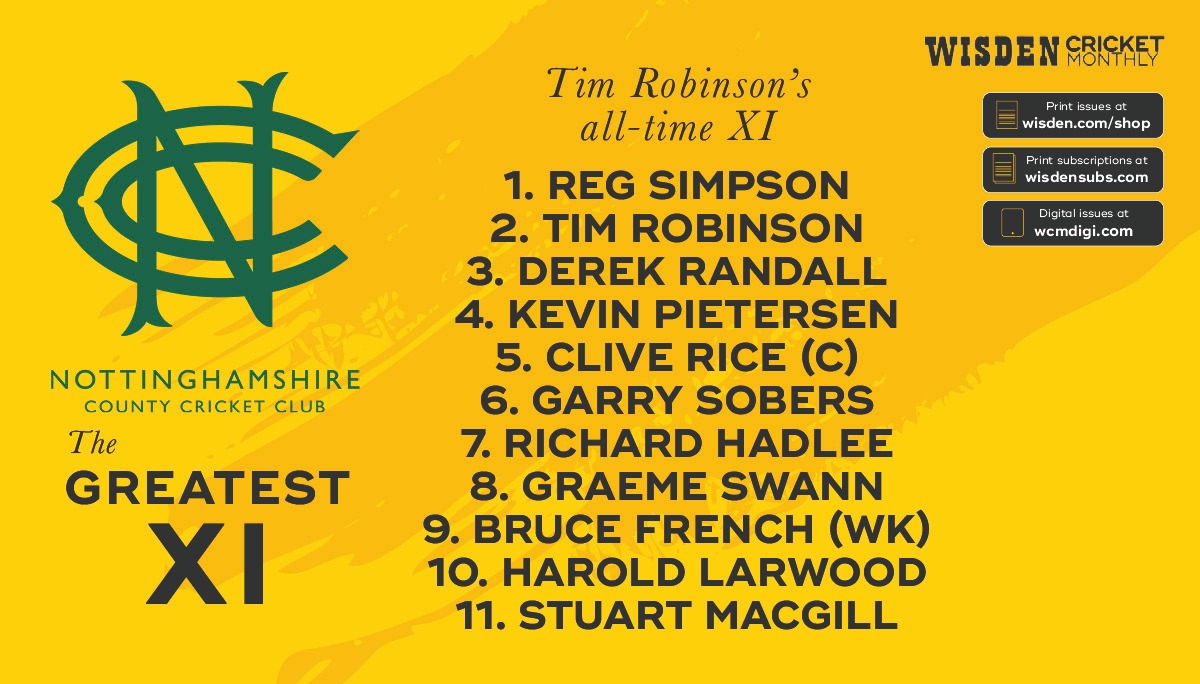 Reg Simpson
"He'd captained Notts through a tricky period and been the club's outstanding batsman. I wish I had a pound for every person who told me he was the best player of quick bowling there's ever been – in fact he told me that himself a few times!"
Tim Robinson
"I wasn't keen to pick myself – it was a close call with Chris Broad – but I asked a couple of lads at the club and they persuaded me."
Derek Randall
"When it was his day, Randall was absolutely brilliant. There wasn't a finer sight in English cricket. You were never quite sure what he was going to do or how he was going to do it, but you'd always pick him for the sheer entertainment value. And he could take any attack apart."
Kevin Pietersen
"As an umpire, I'm lucky to have the best seat in the house and KP was one player you'd always look forward to watching. You could tell from the way he went about things and how he hit the ball that he was special."
Clive Rice (c)
"Clive was the one we all looked up to, and one of the biggest influences on my career. As a world-class all-rounder, if he failed with the bat he'd roll his sleeves up and come roaring in and bowl as quick as anybody."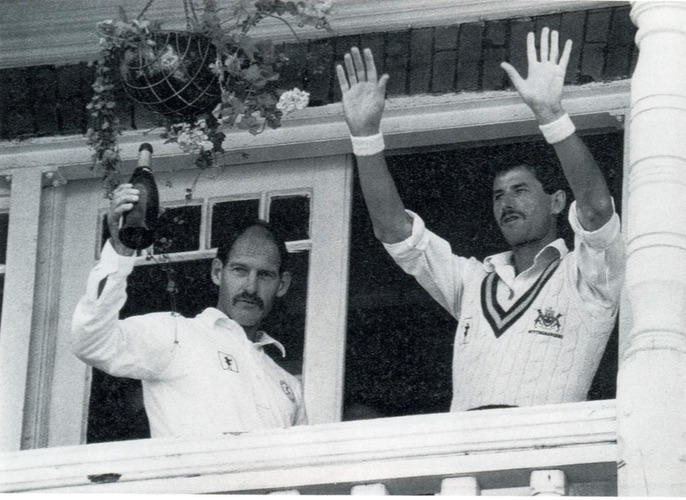 Sir Garfield Sobers
"I couldn't leave him out. Just look at the record. The sad thing was that at the time Sobers played for Notts he didn't really have the team to support him, but he left the club with some unforgettable memories."
Sir Richard Hadlee
"The greatest bowler I've come across. I used to field in the covers and it was mesmerising watching him run in and beat the batsman more times than not."
Graeme Swann
"Swanny was a quality bowler who became a lot better while he was at Notts. He turned the ball and had good control, pace and flight."
Bruce French
"It was like he'd been born with wicketkeeping gloves on. He such a natural and made it look so simple. And he was a far better batsman than he thought he was."
Harold Larwood
"An icon of the game who has gone down in cricket history. He epitomises what it was to be a Nottinghamshire quick bowler."
Stuart MacGill
"I saw quite a bit of MacGill during his three seasons with the club and he won several games for Notts off his own back. He was aggressive, confident and wore his heart on his sleeve."
*******
Read more from Tim Robinson in the latest edition of Wisden Cricket Monthly. Nottinghamshire members can get £1 off the print version with coupon code WCM40MDX at https://wisden.com/shop/wisden-cricket-monthly-issue-40.