Fourteen-year-olds Travis Holland and Sam Seecharan are amongst the new faces aiming to make their mark in the Nottinghamshire Academy in 2021.
Holland, who averaged 49 across the course of 2020, and Seecharan, the youngest member of the Academy intake, are the most youthful of the prospects furthering their cricketing education under the watchful eye of Elite Pathway Manager Matt Wood.
They are joined by 16-year-old Fateh Singh, who proved a threat with both bat and ball in 2020, and Academy Player of the Season Sam King in the ten-strong group.
"The nature of our Academy setup has changed over the past few years," said Wood.
"Our decision to bow out of the Nottinghamshire Premier League has allowed us to focus on quality over quantity. We can now focus on developing the very brightest talents rather than merely attempting to field a full XI every weekend, while also allowing clubs in the Premier League to be bolstered by the players we are nurturing.
"With the likes of Joey Evison and Lyndon James having graduated to the first team in recent seasons, we've made a transition towards a younger group.
"That's allowed us to give the likes of Travis Holland and Sam Seecharan a taste of U18 cricket at a very young age, which can only be beneficial for their continued development.
"All that myself, Picky (Andy Pick) and Anton (Roux) can do is provide the conditions, advice and support to help these boys explore the limits of their talents.
"Time is very much on their side, and we hope that 2021 allows them to enjoy a greater number of opportunities to flourish."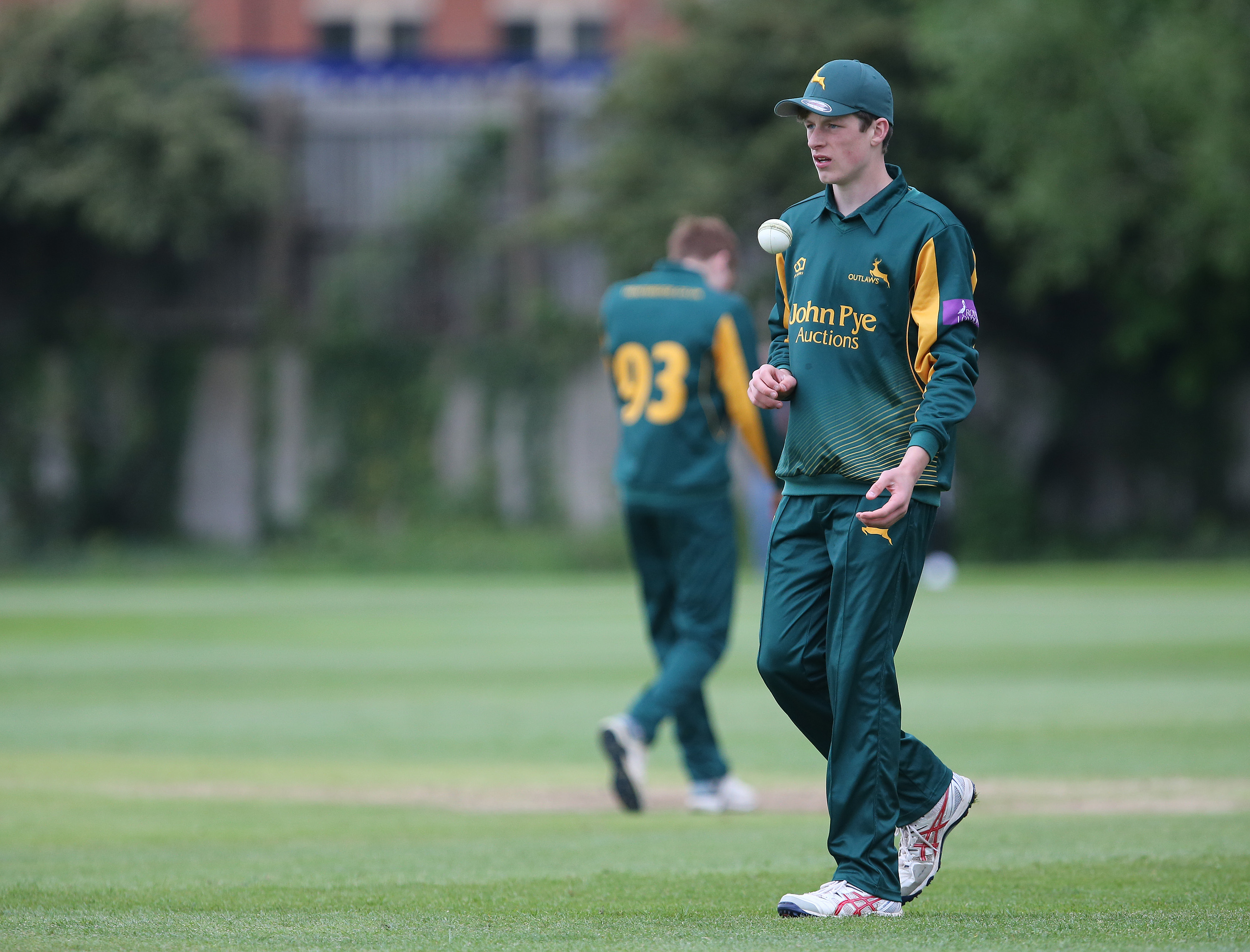 Ben Wilcox is part of the ten-strong Nottinghamshire Academy setup for 2021.
In profile: the 2021 Nottinghamshire Academy
Seb Menzhausen
Age: 19
Opening batsman
Menzhausen has long been on the Academy radar, having performed strongly throughout his time in the county's age-group setup.
His 494 runs whilst with Notts' under 17s made him his side's leading run-scorer and Players' Player of the Year in 2018, with the left-hander going on to make his first appearances for Nottinghamshire's Second XI.
2019 also saw the opener represent the Midlands in the ECB's Young Lions Super 4s competition, alongside current senior pro Joey Evison.
Having previously turned out for Clumber Park and Collingham, Menzhausen has spent the past two summers at Plumtree, scoring two half-centuries at Nottinghamshire Premier League level whilst also establishing himself at the top of the order for Notts' Under 18s.
Ishraj Jandu
Age: 19
Right-arm medium pace
Jandu is heading into his third season at this level, after his 21 wickets at 20.67 in 2018 saw him stake his claim for elevation to the Academy.
That summer also saw the seamer make his second team debut against the MCC Young Cricketers, taking 2-18 and 1-27.
Two further appearances for the Second XI followed in T20 cricket, before Jandu became a regular feature of Notts' Under 18 side in 2020.
Season-best figures of 3-40 came in a one-wicket victory over Warwickshire in the final fixture of the season, while Jandu also made eight appearances for Plumtree in the shortened Nottinghamshire Premier League campaign.
Sam King
Age: 17
All-rounder
Nottinghamshire's Academy Player of the Season for 2020, King finished the summer as leading run-scorer and wicket-taker for the Under 18s, whilst also taking more catches than any of his teammates.
The Nottingham High School pupil scored 348 runs at 49.71 across 12 fixtures (including eight as captain), recording a strike rate of 133.47.
King's high score of 79*, in a one-wicket win over Worcestershire, was crowned with a towering six to take his side over the line.
His 15 wickets included best bowling figures of 3-34 in a six-wicket win over Leicestershire and Rutland's under 18s, with King regularly entrusted with the death overs during the course of the season.
King's seven appearances for Gedling Colliery CC in 2020, meanwhile, yielded 285 runs at 47.50 and seven wickets at 17.00.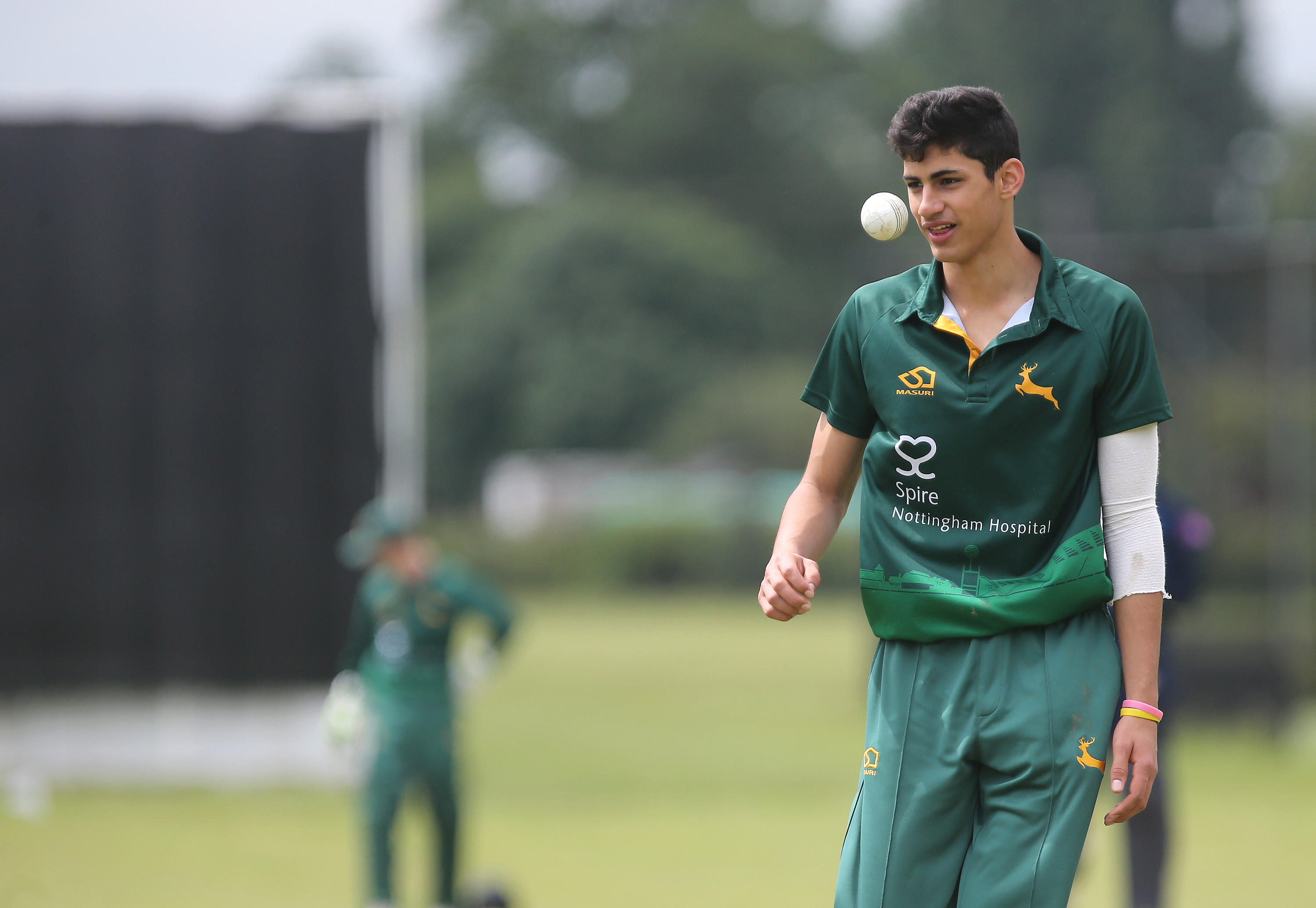 Academy Player of the Season Sam King
Ben Martindale
Age: 18
Batting all-rounder
After making his Second XI bow in a friendly against Northamptonshire in 2019, Martindale's 2020 began with a tour of India alongside fellow Academy members Sam Seecharan and Ben Wilcox, with the trio gaining invaluable experience of life on tour and playing in subcontinental conditions.
Upon his return, the all-rounder hit 192 runs at 32.00 for Nottinghamshire Under 18s, including an unbeaten 69 against his side's Yorkshire counterparts.
The summer also saw Nottingham High School pupil Martindale make his first appearances in the Nottinghamshire Premier League, turning out on five occasions for Caythorpe having started out in the club game at Ellerslie.
Ben Wilcox
Age: 17
Batting all-rounder
Upon his return from India, Wilcox made seven appearances for Notts' Under 18s, hitting an unbeaten 51 against Yorkshire at Lady Bay, while also turning out on two occasions for his native Norfolk's Under 18s against Notts.
Wilcox's four appearances for the Nottinghamshire Academy in 2019, meanwhile, featured an unbeaten 26 in a resounding win over the Nottingham City Cup XI and a score of 27 in a four-wicket win over England Women.
That same year, Gresham's School pupil Wilcox made five appearances at the prestigious Bunbury Festival, hitting one half century as his London and South East side made the final of the under 15s competition. Wilcox's performances led to him being invited to join the ECB South team for the Best of Bunbury tournament later that summer.
Qundeel Haider
Age: 17
Leg spinner & Batsman
Another young player to make his Second XI debut in 2019, Haider was ever-present for Notts' Under 18s in 2020, recording his best figures of 4-29 in a rout of Lincolnshire.
Haider's previous exposure to Academy cricket included three appearances in 2019 – and, while his miserly bowling came to the fore in a nailbiting win over Lancashire, it was his expanisve strokeplay that shone in making an unbeaten fifty against England's women.
Trent College pupil Haider has enjoyed two summers as part of the Radcliffe-on-Trent setup, with best figures of 3-45 helping his side to a five-wicket win over Caythorpe in the final weeks of the 2019 season.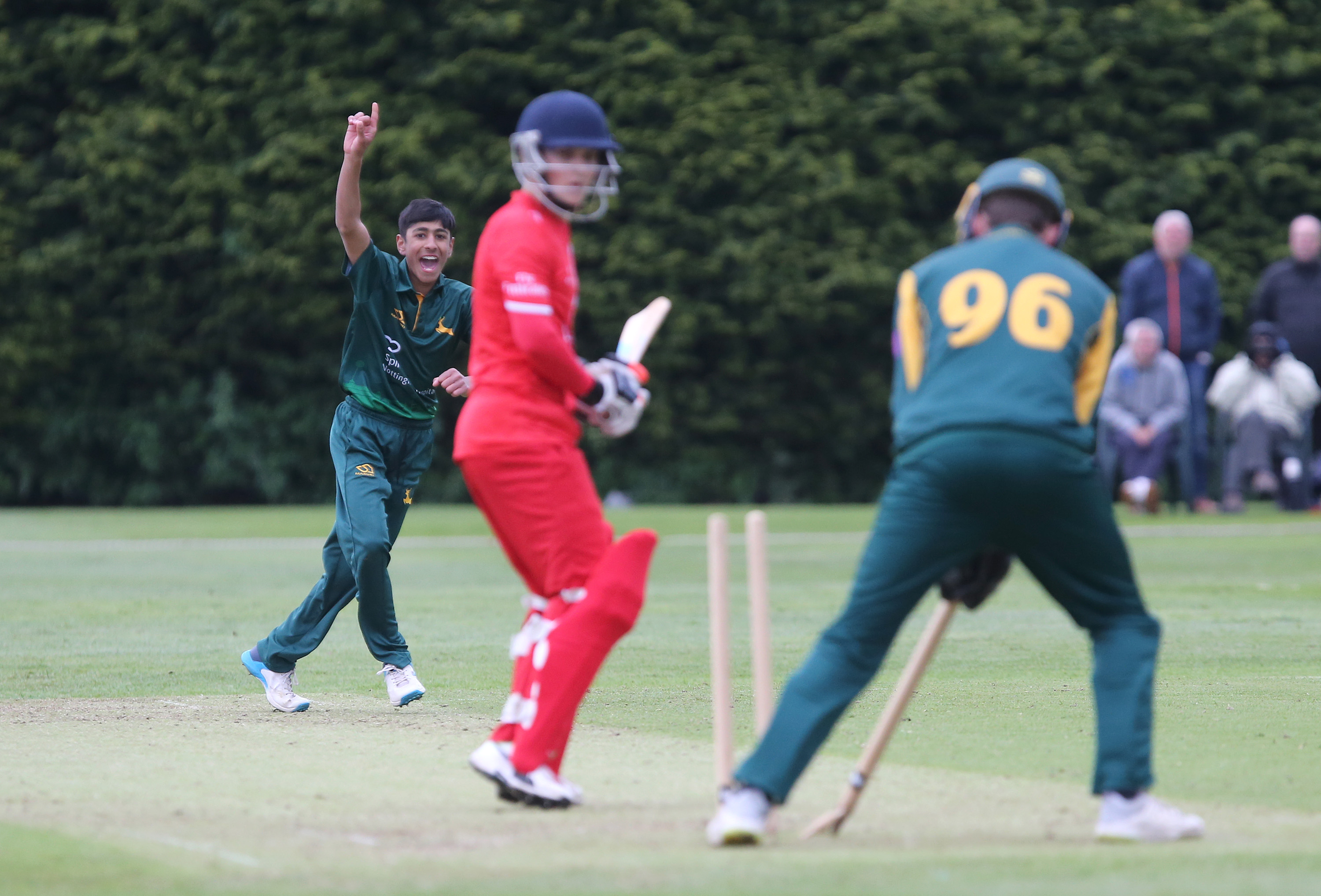 Qundeel Haider in action
Fateh Singh
Age: 16
Left arm spinner & batsman
Singh, who steps up to the Academy for the first time in 2021, made an impact with bat and ball during the 2020 campaign.
His 238 runs at 47.60 for Notts' Under 18s included a remarkable performance against Derbyshire, with the left-hander hitting 19 from the final four balls of the game to secure victory.
Singh's economical spin, meanwhile, snared 13 scalps across 12 appearances – including figures of 3-32 from nine overs against Warwickshire.
Trent College's Singh also plied his trade in the Notts Premier League during the course of 2020, showing consistent promise across six appearances in Cavaliers and Carrington's title-winning campaign.
Ben Panter
Age: 16
Fast bowler
Right-armer Panter was a consistent threat for Notts' Under 18s in 2020, finishing the season as his side's third-highest wicket-taker with 11 scalps across ten matches.
The Gresham's school pupil made two appearances for the Notts Academy in 2019, with his victims including England wicketkeeper Amy Jones in a friendly against the women's national side.
Panter continued to turn out for his native Norfolk in 2020, taking four wickets across four fixtures against Notts with a best analysis of 2-45.
The 6ft7 paceman also appeared alongside fellow Academy member Ben Wilcox at the 2019 Bunbury Festival, playing four times on London and East Under 15s' run to the final.
Sam Seecharan
Age: 14
Batting all-rounder
The youngest member of the Academy group, Seecharan ended 2020 opening the batting for Notts' Under 18s at the tender age of 14.
Renowned as one of the brightest prospects at Tonbrige School (Alma Mater of the likes of Colin Cowdrey and Zak Crawley), Seecharan made appearances across Notts' U14, U15 and U18 teams in the truncated 2020 campaign.
An unbeaten score of 113 for the U14s proved to be his highest score of the season, but it was his adaptation to the U18 game that proved most notable.
In scoring 298 runs, Seecharan finished 2020 as the U18s' second-highest run-scorer, with a score of 77 from 47 deliveries helping his side to victory over Leicestershire's Under 19s.
Travis Holland
Age: 14
Batting all-rounder
Another new recruit for the 2021 Academy season, Holland has enjoyed a productive 12 months across all age groups, with his 735 runs at 49.00 including two scores of over 100.
Those runs included 212 at under 18 level – 95 of them coming in a winning cause against Lincolnshire.
West Bridgford School pupil Holland, who also plays for West Bridgfordians, made his bow for the Academy in their 2019 fixture against England Women.
The all-rounder has since gone on to gain further experience at U14, U15 and U18 level, with his two hundreds in 2020 including a knock of 114 from 100 deliveries for Notts Under 14s against Leicestershire and Rutland.
*******
Nottinghamshire membership for 2021 is now on sale, with those who choose to join our club bestowed with entry to all scheduled home domestic cricket, international tickets in members' areas and a whole host of additional exclusive perks.